Fallow, 2 St James's Market, Haymarket, London SW1Y 4AH. Snacks and small plates £7.50-£22, large plates £16-£40, desserts £9-£16, wines from £36
At the start of our dinner at Fallow on London's Haymarket, a waiter delivers a mushroom parfait to our table, then points to a shelf hanging from the industrial scaffolding ceiling. Gnarled, mushroom-adorned logs sit up there. "And we even grow some of the mushrooms for this dish right here at the restaurant," he says. Even taking into account the restaurant's loudly proclaimed commitment to sustainability, this could be a deeply boring manifestation of virtue cues, if not for one thing. This mushroom parfait is amazing. The furious shitake and oyster blizzard is as soft as velvet caressed the right way. It's as deep as a Samuel Beckett play and as rich as Rockefeller. It doesn't surprise me at all that dairy products were involved, as well as separate eggs: the yolks for fat, the whipped whites for aeration.
It's delicious to eat but could also, I think, replace my usual Kiehl's Facial Fuel as a moisturizer; just rub it in and keep rubbing. Surprisingly though, I believe it's pound for pound more expensive than Kiehl's. I like to think that the £17 price tag for this small plate of mushroom pie is partly to recoup the significant research and development costs, as if it were a new pharmaceutical product. Certainly, it makes me feel better about the world. So no, Fallow isn't cheap, but it's really all kinds of "Gosh" and "Wow" and "Oh my!"
Chefs Jack Croft and Will Murray met at Dinner by Heston, which is interesting because before their mushroom parfait, the best I had tried was the vegetarian alternative to Blumenthal's famous meat fruit. It really is better (and, in this case, cheaper). The two leaders bonded over a desire to uplift the humble and use the scraps that others throw away. A prolonged pop-up finally led last fall to this hard-edged corner site: there are polished floors and red leather banquettes, marble countertops and, hanging from the ceiling, bundles of kelp and of heather. In the open kitchen, the flames spring up.
On one of those excruciatingly hot evenings the glass walls have been taken down and there is a drop and a hum in the place. It reminds me of those New York restaurants that reject the arching formality and reverence of the genre that typically frame cuisine of this quality, preferring instead to knock out plate after plate of the good stuff. Some of it is delivered by the extremely competent waiters, the rest by the chefs themselves.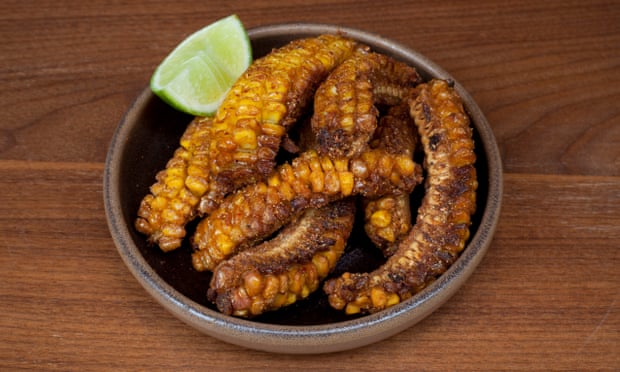 A particular strength is the seasonings. Slices of corn on the cob, rolled up on themselves after a long swim in the deep fryer that made the kernels almost like caramel, are sprinkled with a kombu-boosted salty-sour mix. It's a snack bar dressed in a zoot suit and spats, eaten like it's ribs. An equally addictive sour-salty seasoning has been used on long-smoked beef ribs, in a layer of gravy, that bite off the bone. Oddly enough, two large ribs cost just £12, not far off the retail price. Yes, the price can sometimes seem a little uneven.
Among these first courses, there is a "tartiflette" galette. It's a soft, hot-puffed disk of crispy-crusted brioche loaded with slices of reblochon, caramelized onions and gherkin: all the ingredients, except the potatoes, that the reblochon trade body found while looking for a dish to whip up their 80's product. Next is picked white crab on a crisp shredded cabbage salad. Below is a creamy Jerusalem artichoke puree. Poured around this pile of beauty is a roasted chili broth.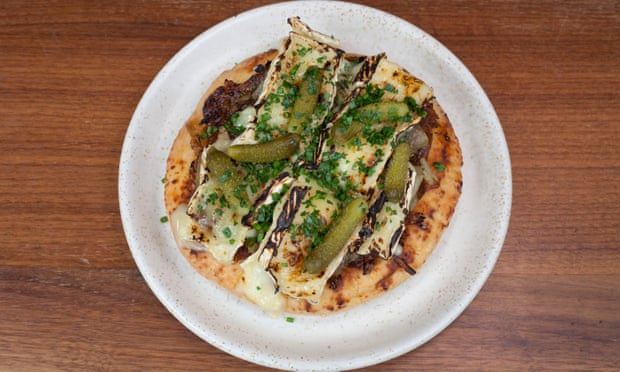 Try their version of leek vinaigrette which, unlike the classic, is served hot. The leek logs were smoked until tender. The dish is drenched encouragingly in a thick vinaigrette then topped with fried breadcrumbs. It's a big portion, as it should be for £22, to share and argue with friends. The menu is strong on meatless dishes like this, though it does have a list of unique dairy cow cuts; animals that gave their all to the milk trade and finally gave it their all again. If you don't approve of dairy or meat consumption, nothing in this story will change your mind. But the idea of ​​animals having served in one way, being served in another makes sense.
The dish that caught the most attention and will divide the crowd is the cod head with sriracha butter sauce. It's as described: a cod's head, the piece of fish that might otherwise be discarded, eye intact, slowly grilled until the skin has taken on a chewy softness, then dipped in a tangerine-colored sauce with a light kick of chilli and garlic. You are invited to search around to find the meat – not just the familiar cheeks, but those morsels around the jaw and eye socket and beyond. I find myself feeling my own padded face. There really could be some good food there. There are two views here: either it's the worst hipsterism of overworked London restaurants, or there's the opinion of those who've tried it that it's a damn good, delicious and totally involving idea. .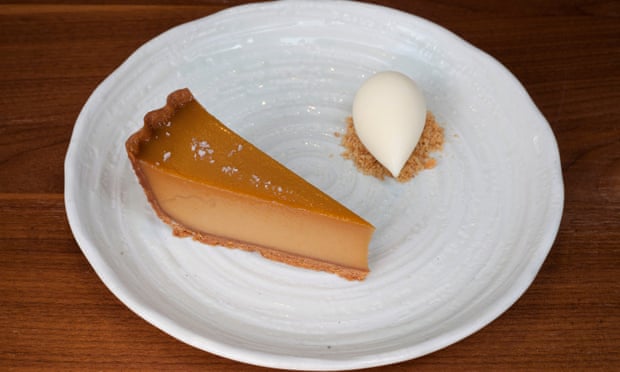 Among the desserts, the best we try is a tart filled with a coppery cream made from slowly caramelized whey over almost three days. Essentially, it's an adult version of condensed milk. A chocolate mousse with various pieces of mushrooms and black truffle makes the kitchen seem like it's getting a little too smart for its own good. I find myself mumbling the word "interesting" over it. It's never a good thing.
My only other criticism is of the extensive wine list, which starts at £36 a bottle and doesn't get anything below £9 a glass. This makes the entry point to an already less cheap restaurant unnecessarily more expensive. It is possible to find good wines at less atrocious prices for small budgets. That aside, Fallow really serves up some of the best food I've tried in London right now. The durability stuff is great. Let's put on the mushroom show, right here in the barn. Let's use the pieces that others throw away. But none of that matters if your expensive dinner isn't memorable. At Fallow, it really is.
News
Chef Adam Reid of The French at the Midland Hotel in Manchester has announced a slightly less gimmicky new venture in the city. The Butty Shop will be a takeaway outlet in the redeveloped New Century Hall, a self-proclaimed 'social destination' inside a Grade II listed building on Mayes Street. Reid's all-day menu will apparently focus on traditional sandwiches. He plans "to bring British butty back to life, with classic Northern flavors built on memories of childhood visits to the bakery". There will be pickled eggs. To adam-reid.co.uk.
Brazilian chef Alberto Landgraf, who holds two Michelin stars at Oteque in Rio de Janeiro, is bringing his cooking back to London, where he began his career with Gordon Ramsay and Tom Aikens. Landgraf, whose menu is particularly focused on seafood and open-fire cooking, will launch Bossa on Vere Street, in a space under the Brazilian consulate.
And commiserations with Cardiff, which is to get an Ivy Asia, serving its particular menu of vaguely Japanese-inspired dishes, inside the St David's shopping centre. In the summer of 2021, Ivy owner Richard Caring had to remove a promotional video for his new Chelsea Ivy Asia and apologize for 'any offense caused' by what have been denounced by various groups as racial stereotyping . That said, Ivy Asia in Manchester still has a private dining space called the Geisha Room.
Email Jay at [email protected] or follow him on Twitter @jayrayner1