It seems like every week in the world of vegan food news is more exciting than the last and this week is no exception. Magnolia Bakery, the one whose cupcakes were made famous by Sex in the city—launches its first vegan dessert. The new breakfast pouches are here from Mings Bings in four JUST Egg-stuffed flavors. Hong Kong's OmniPork helps give DIY Kenchen Ramen kits a vegan version of pork soup. And Starbucks Pink Drinks are getting bottled. Read on to find out more.
1Vegan Magnolia Banana Pudding
New York-based Magnolia Bakery made an appearance in sex in the city in 2000, where Carrie (Sarah Jessica Parker) and Miranda (Cynthia Nixon) shared cupcakes and started a cupcake craze that would last for years.
In addition to cupcakes, Magnolia, which now operates locations in New York, Chicago and Los Angeles, is also famous locally for its banana bread pudding. This week, the bakery chain is making its first foray into vegan options with the launch of Vegan Banana Pudding.
Magnolia developed the plant-based dessert after learning that "vegan" was the top search term on its website.
"We couldn't think of a better product than a vegan version of our most popular dessert," Sara Gramling, vice president of public relations at Magnolia Bakery, told VegNews.
Magnolia's first vegan banana pudding is made with bananas, HomeFree Mini Vanilla Cookies, VioLife Heavy Cream, Nature's Charm Sweetened Condensed Coconut Milk, JELL-O Vanilla Pudding Mix ( an accidentally vegan staple).
Magnolia Bakery
Magnolia's first vegan dessert is available for a limited time through October 26 at its Los Angeles location in a size medium ($12) while supplies last.
Other places, including the one in New York made famous by sex in the city, also get the vegan treat? "We're really excited to launch our first-ever vegan dessert in Los Angeles and get feedback from customers and our team," Gramling said. "We will use this information to determine potential next steps for Vegan Banana Pudding."
2Starbucks Pink Drinks Bottles
Starbucks Pink Drinks – and derivatives like Dragon, Pineapple and Guava Passionfruit Drinks – all started from a customer hack. The coffee chain has noticed customers repeatedly ordering its Strawberry Acai Refreshment with coconut milk instead of water to create a creamy, vegan Instagram feel. In 2017, Starbucks added the pink drink to its secret menu and the rest is history.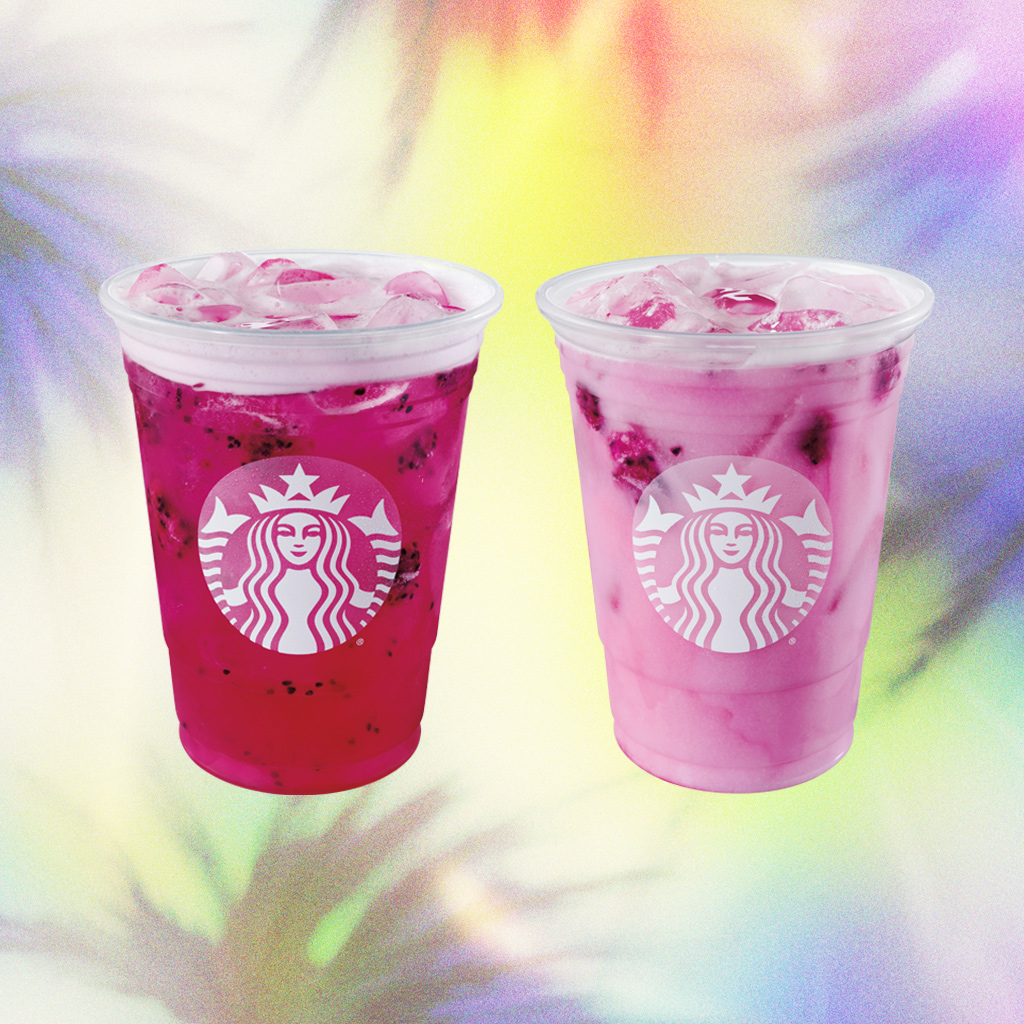 Starbucks
In 2023, Starbucks will lean even further into the vegan drink by bottling it for retail. At the recent National Association of Convenience Stores (NACS) trade show in Las Vegas, PepsiCo, which is in partnership with Starbucks, unveiled a first look at the upcoming beverages.
According to the teaser, Starbucks' new bottled vegan drinks will be available in Pink Drink and Paradise Drink (pineapple passion fruit) varieties.
Once on shelves, the new pink drinks will join Starbucks' oat milk-based bottled Frappuccinos, which the coffee giant launched in Caramel Waffle Cookie and Dark Chocolate Brownie flavors earlier this year.
3JUST Egg Mings Bings
This week, two brands – JUST Egg and Mings Bings – celebrated World Egg Day (October 13) in a vegan way by announcing the launch of new vegan breakfast pouches. Celebrity chef Ming Tsai, an iron chef on the Food Network and longtime TV personality, created the vegan brand Mings Bings in 2020 to bring Chinese flatbreads to the masses.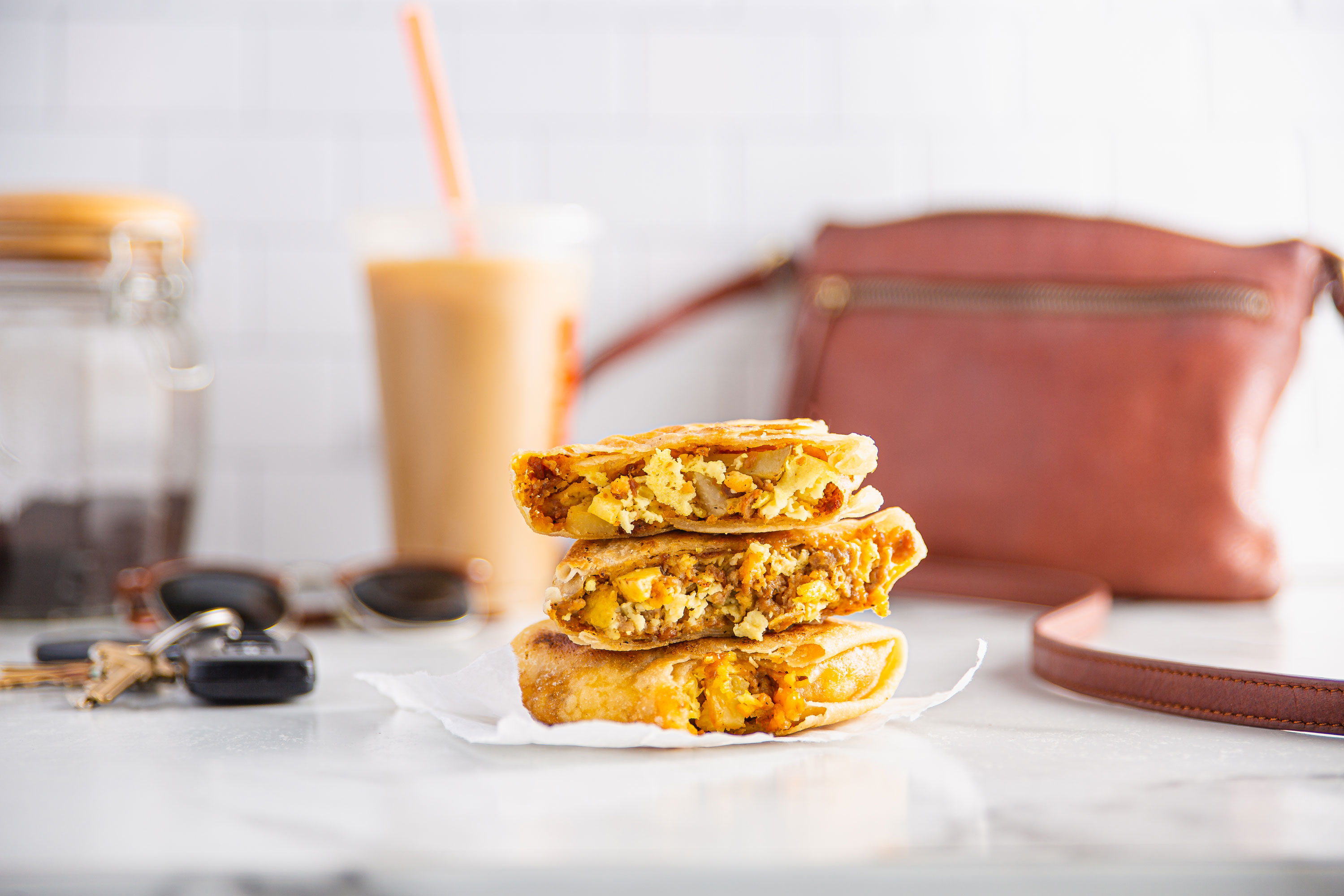 Mings Bings
Now the chef is expanding its Mings Bings offerings with four new JUST egg-stuffed breakfast varieties: Egg & Cheese; Sausage, Egg & Cheese; Chorizo, Egg & Cheese; and Veggie, Egg & Cheese.
For anyone heading to the Food Network New York City Wine & Food Festival this weekend, Chef Tsai will be making the vegan breakfast pockets and handing out samples. Otherwise, the new line is available for purchase on the Mings Bings website and will arrive in retailers in November.
4DIY OmniPork Ramen Kits
As we head into cooler months, there's no more comforting food than bubbling, springy noodle-laden ramen. And while vegan ramen isn't new, a version that leans heavily on pork flavors but no animal products is still a rare find.
This week Kenchan Ramen (a home ramen kit delivery company) and OmniFoods (Hong Kong's largest vegan meat brand) teamed up to offer ramen lovers three vegan options: White Truffle Mushroom, Ginger Garlic Shio and Spicy Sesame. Each soup kit comes with a generous serving of OmniPork pomace, a vegan pork alternative made with non-GMO soy, peas, shiitake mushrooms and rice.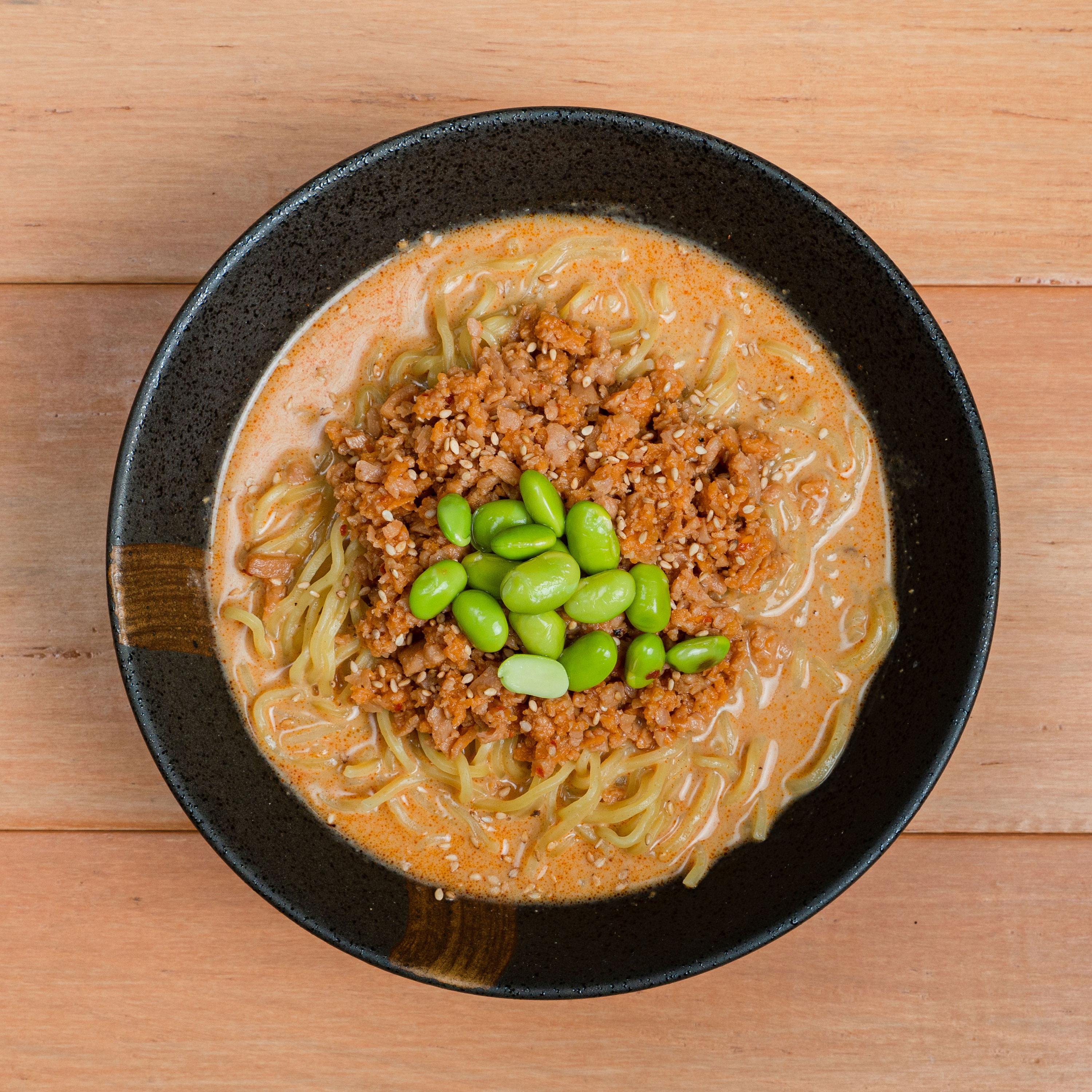 Kenchan
"We chose to use OMNI in our Spicy Sesame Kits because of its amazing texture, and when I first tasted it I couldn't believe it was 100% plant-based and its superior nutritional value. ", Kenshi (Kenchan) Kobayashi, Kenchan The founder and CEO of Ramen, said in a statement.
"I'm so excited to share my favorite comfort foods and these delicious new vegan options so you too can be a ramen chef at home," Kobayashi said.
OmniPork's Loaded Vegan Ramen Kits are available for delivery to customers in Arizona, California, Idaho, Nevada and Utah.
5Beyond Meat's Ready Meals
Rumor has it that Beyond Meat is set to launch ready meals in the UK. New trademark requests for Beyond Meals noted by local outlet The grocerwho said the brand had applied for two trademarks – class 30, for dishes with pasta, rice and noodles, and class 29, for meat substitutes – with the Intellectual Property Office from the United Kingdom.
Domestically, the brand has previously filed 108 trademarks with the United States Patent and Trademark Office. While some terms are familiar and expected, others relate to potential products that Beyond Meat has not discussed publicly, including Beyond Crab, Beyond Shrimp, and Beyond Tuna in the plant-based seafood space; general terms such as Beyond Brunch, Beyond Bowls and Beyond Deli; and new categories such as Beyond Eggs.
While we wait for more news on these new meals in the UK, Beyond Meat's latest plans in the US are also very exciting. The brand is set to launch vegan steak tips and chicken popcorn, which have already been spotted in stores and on menus across the Midwest.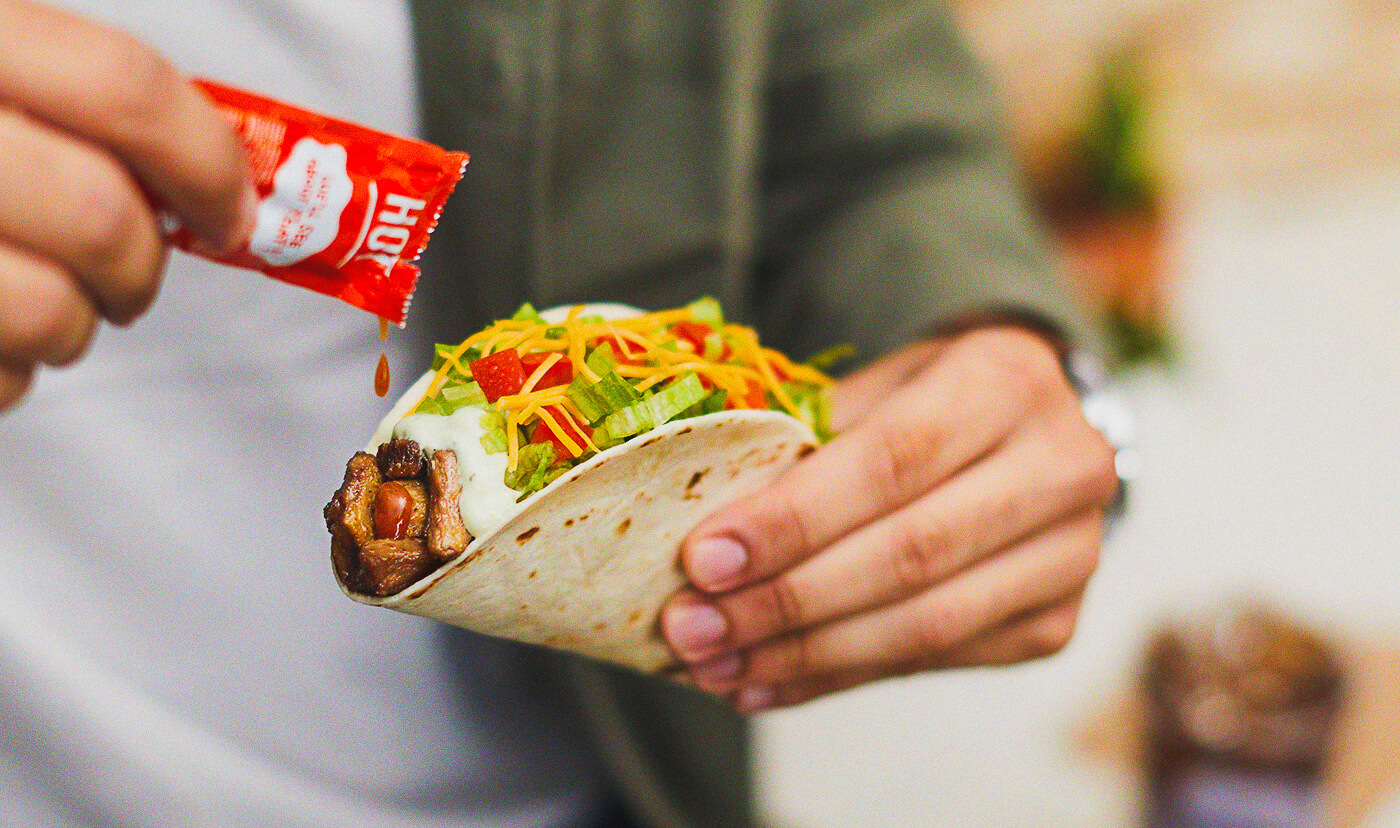 Taco Bell
Beyond Meat's collaboration with Taco Bell is finally here (and by "here" we mean Ohio). This week, Taco Bell finally launched Beyond Carne Asada at 46 locations in and around Dayton, OH. The best part? Getting the succulent vegan steak instead of animal meat won't cost you a penny more.
For the latest vegan news, read: